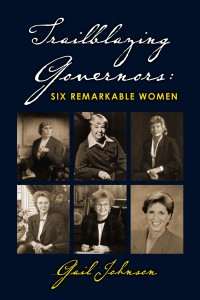 Boldly going into an undiscovered universe, the trailblazing governors shattered the myth that women were too weak to succeed in politics and effectively lead state government.
Courage, intelligence, and integrity are their defining characteristics.
Who are the six remarkable women who blazed a trail to the governor"s office?
They are:
Connecticut's Ella Grasso (1975-1980)
Washington's Dixy Lee Ray (1977-1981)
Kentucky's Martha Layne Collins (1983-1987)
Vermont's Madeleine Kunin (1985-1991)
Oregon's Barbara Roberts (1991-1995)
New Jersey"s Christine Todd Whitman (1994-2001)
The book is published by CreateSpace and is available online  and at your local bookstore.(ISBN-13: 978-1466277694). It is available on Kindle too.
To celebrate the book launch, CreateSpace is offering a 20% discount to those who buy it from their e-store: Find it at:  https://www.createspace.com/3677866 and use this code: WCGZ26YE–when you get to the check-out.