"The enthusiasm for politics I saw at home was contagious and it was easy for a child who adored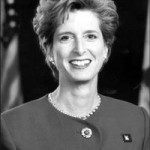 sports, as I did, to become engaged in the keen competition of the process. That early sense of excitement about practical politics has never left me."
Christine Todd Whitman served as New Jersey's governor from 1994 to 2001.
Despite being born into a wealthy family with deep connections to the Republican Party, she, like the other trailblazers, had to find her own way. Her tax cuts made her a star of the Republican Party, but her moderate social views collided with its growing right wing. It did not take long before right-wing pundits branded her an elitist country club liberal, and she narrowly won reelection in 1997.
Useful links:
Christie Todd Whitman's home page http://www.christiewhitman.com/

Christie Todd Whitman's book: It's My Party Too.
National Governors Association http://www.nga.org/cms/home/governors/past-governors-bios/page_new_jersey/col2-content/main-content-list/title_whitman_christine.html
Florio-Whitman Third Debate, C-SPAN,
October 24, 1993. http://www.c-spanvideo.org/program/51798-1
Gale Resources, Women's History, "Christine Todd
Whitman," http://www.galegroup.com/free_resources/whm/bio/whitman_c.htm
The Daily Show with Jon Stewart, Comedy Central, January 17, 2005,
http://www.thedailyshow.com/watch/thu-january-27-2005/christine-todd-whitman